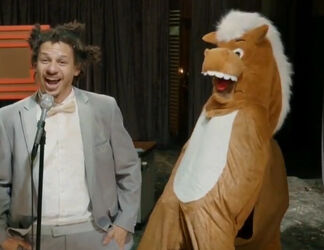 Description Of Characters
The Middle America Characters Appear During A Monologue In The Sixth Episode Of The Fourth Season Titled Warren G; Kelly Osbourne. The Characters Consist From Two People In A Horse Costume Named Pepppercorn Bing Bong, A Poor Quality Version Of The Erasherhead Baby Puppet And More Crazy Characters.
Different Characters
Peppercorn Bing Bong Is One Of The First Characters To Appear In The Middle America Segment/Monologue. Peppercorn Is Just Two People In A Dumb Looking Horse Costume. At The Begining Of The Monologue, Eric Talks About How His Show Needs To Appeal More To The Middle American People And Then He Calls Peppercorn On Stage And Then They Begin To Sing. Their Song Consists Of Saying Peppercorn Bing Bong A Couple Times And At The End Of The Song, Peppercorn Bing Bong Says "I Don't Like Science!"
Jeff Dunham's Racist Puppets Pop Out Besides Hannibal On His Chair. Three Puppets Pop Out Introducing Themselves As A Big Ol' Black Guy, A Terrorist That Resembles Osama Bin Laden Pops Out And Introduces Himself As A Terrorist And A Redneck Puppet Wearing A Straw Hat Pops Out Saying "I'm Lazy".
The Eraserhead Baby Pops Out From Under Eric's Desk. The Puppet That Pops Out Is A Very Low Quality Made Eraserhead Baby Puppet, While The Original Was Very Well Made. The Puppet Begins To Talk About How People Bother Him About The Fact That He Starred In Eraserhead Over Forty Years Ago.
Eric's Loopers Pop Out Of The Peppercorn Bing Bong Outfit, Revealing A Younger Eric And An Older One. They Both Have Shotguns And Are Both Planning To Kill Eric. Eric Gets Out His Shotgun And They All Begin To Shoot Each Other. After A Couple Seconds Of Watching Them All Shoot Their Guns, Hannibal Yells "Ha Ha! You Got Old!" Then The We'll Be Right Back Text Pops Up And Eric Shoots The Old Eric's Head Off.
Other Appearances
None Of The Other Characters Have Came Back But Peppercorn Bing Bong Was In A Promo For Season 4. Eric Went To The RNC And DNC As A Promotional Stunt For Season 4 And The Show In General. When Eric Was At The RNC, He Brought Peppercorn Bing Bong Along With Him. In One Clip, Eric Is Interviewing Roger Stone (American Political Consultant) And During The Interview, Peppercorn Pops Out Of The Blue And Dances With Eric. In Some Other Clips, Eric And Peppercorn Are Dancing Next To A Random Street Goer And In The Last Clip, Eric Is Shown Dancing Next To A Group Of Cops That Are Staring At Both of Them With A Strange Look On Their Faces.
Gallery