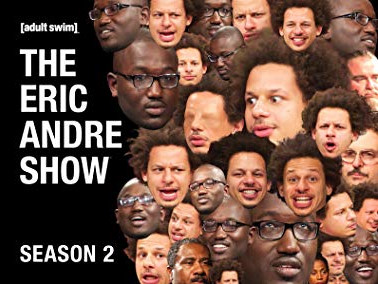 The Second Season Of The Eric Andre Show Premiered On October 3rd 2013 And Ended On December 12th 2013. The Second Season Radically Changed The Series. Instead Of Having The Show Look Like A Low Quality Public Access Show, The Show Is Now In HD And The Set Has Had A Serious Makeover. Including The Curtain's Color Being Changed To Red, Two Pillars Set In The Background, Another Potted Plant Being Added And The Set Doesn't Look Filthy Unlike The Last Season.
Episode List:
Ep 1: Maria Menounos; Eric Balfour
Ep 2: Krysten Ritter; Dominic Monaghan
Ep 3: Lou Ferrigno; Downtown Julie Brown
Ep 4: Jodie Sweetin; Vivica A. Fox
Ep 5: James Van Der Beek; Steve-O
Ep 6: Wink Martindale; Sarah Burns
Ep 7: Lance Reddick; Harry Shum, Jr.
Ep 8: Joey Fatone; Richard Hatch
Ep 9: Chance the Rapper; Mel B.
Ep 10: Scott Porter; Brutus "The Barber" Beefcake
Observations/Trivia:
The Curtain In The Background Has Now Changed From Yellow To Red
Two Pillars Have Been Added In The Background