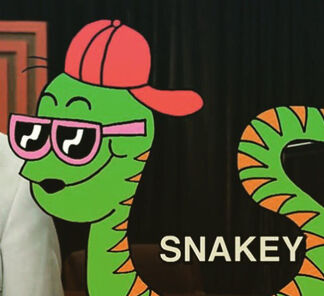 Character Description
Snakey is A character from the fourth season of the eric andre show. Snakey is a cartoon snake that is edited into the show by using a tennis ball on a stick to control his movements. He wears a red, backwards cap with pink sunglasses. He appears to be a green rattlesnake.
Appearances
Snakey's First Appearance Is In The Third Episode Of Season 4 Which Is Titled Howie Mandel; Malaysia Pargo. He Appears In The Monologue And Greets Eric. He Then Plays A Guitar And Annoys Hannibal By Calling Him A Dweeb. Eventually, Hannibal Gets Fed Up With His Antics And Attacks The Person Holding The Tennis Ball On A Stick Which Controls Snakey's Movements. During Hannibal's Outrage, It Cuts To The We'll Be Right Back Screen. Snakey Also Appears At The End Of The Malaysia Pargo Interview And Shortly After He Appears, The Screen Cuts To The We'll Be Right Back Screen Again. For The Final Time In The Episode, When Flying Lotus Checks His E-Mails At The End Of The Episode, Snakey Appears And Hangs Around The Set With Hannibal And Eric As They Freak Out For No Reason.
Snakey's Second Appearance Is Quite Short. Snakey Appears During The Sixth Episode Of Season 4 Which Is Titled Warren G; Kelly Osbourne. During His Appearance, He Has A Knife In His Hand And Is Attacking A Naked Eric Who Is Defending Himself With A Chair. Snakey Then Calls Eric A Dweeb And Then Eric Throws The Chair On Snakey And Then Runs Off.
Appearances List
Gallery