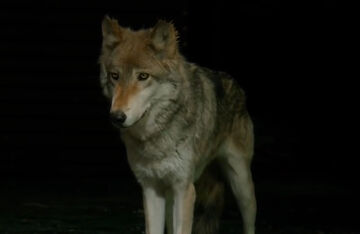 The
Sprite Wolf
isn't exactly a character, it's just a wolf. However, it does have an impact on
Eric
.
The wolf is seen in the intro for S04E09, right after Eric fights the one and only Kung Fu Master and breaks a lamp. Eric and the wolf stare at each other for quite a while, before a Sprite can flies across the screen with an accompanying "Spriiiiiiite" whisper. After the Sprite can flies in, Eric Andre quietly sits down at his chair, humbled by such a moving figure.
"Sprite Wolf" is not the official name for the furry friend, but the wolf has been referred to this by fans, so... good enough.
Appearances
The wolf only appears in the intro for S04E09.
Videos