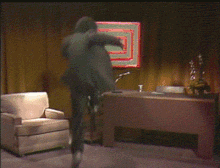 The unaired pilot was a "demo" pilot shot by Eric Andre and some of his friends in the Summer of 2009, using a rented bodega as the set.
The pilot was later edited by Eric himself using Final Cut Pro and produced into a 7-minute episode meant for pitching to other networks. According to an Adult Swim bumper that aired right before the premiere of the first episode, many other networks passed on the program for being too bizarre and "low budget." Adult Swim, however, picked the series up upon seeing the demo in late 2010.[1]
The unaired pilot has never aired or been posted online, although clips from it were used in the first season of the show[2][3] and on an appearance on Conan[4].
Observations/Trivia
Instead of a globe, a trophy and a fruit basket are located on Eric's desk.
The show's logo in the background is cheaper looking than normal, appearing to be made of just cardboard and orange tape.
References